Fall is quickly approaching, and now is the time for commercial property owners and businesses to start getting their landscaping ready with a fall landscape maintenance checklist.
While spring often gets all of the attention when it comes to commercial landscape maintenance, fall can be just as significant.
With a few simple maintenance tasks and a little bit of TLC, you can ensure that your landscape looks amazing through the colder months!
In this blog post, we'll discuss eight essential fall landscape maintenance tasks – from pruning shrubs and trees to hardscape maintenance – so that you can make sure your business's outdoor space looks excellent before winter arrives!
Pruning shrubs and trees for healthier growth
Do you ever wonder why pruning your shrubs and trees in the fall is necessary for their overall health? Well, pruning during this time promotes healthier growth for various reasons.
For one, the cooler temperatures mean less stress on the plant, allowing for better recovery from pruning cuts.
Additionally, pruning can help reshape the plant and remove dead or diseased wood, preventing pests and diseases from spreading.
Plus, pruning in the fall can also increase flower and fruit production the following season.
Aerating and fertilize your lawn to improve soil conditions
Fall is the perfect time to give your lawn a little extra care before the winter months arrive.
Aerating and fertilizing your lawn in the fall can do wonders for improving soil conditions.
By aerating, you are essentially punching small holes into the ground, reducing soil compaction.
Adding aeration to your lawn care routine allows air, water, and nutrients to penetrate deeper into the soil, reaching the grass roots.
This helps to promote healthy root growth while also minimizing thatch buildup.
Fall fertilization, on the other hand, provides your lawn with much-needed nutrients that were likely depleted through the summer months. Doing a soil test at this time is a vital part of lawn maintenance.
By applying lawn fertilizer in the fall, you are giving your lawn a boost to help it survive the upcoming cold weather and promote springtime grass growth.
Planning for winter with mulching and weed control
As the leaves change color and the days grow shorter, it's time to start thinking about preparing your lawn for winter.
Mulching and weed control are essential steps in landscape maintenance that will help protect your lawn from harsh weather and promote healthy growth in the spring.
Mulching helps insulate the soil, keeping it warm during the colder months and providing vital nutrients to the roots while helping to control weeds.
Removing weeds not only keeps your lawn looking tidy but also prevents them from competing with your grass for nutrients and water.
By starting now, you'll be able to give your lawn the care it needs to thrive throughout the winter, ensuring a lush and beautiful lawn come springtime.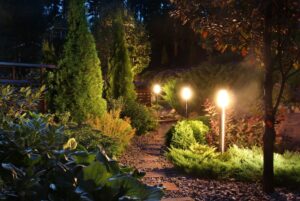 Inspecting outdoor lighting fixtures for repairs or replacements
It may seem like the chilly winter season is far off, but it'll be here before we know it. And with it comes an abundance of outdoor lighting needs.
Before the snow starts to fall, it's time to inspect your outdoor lighting fixtures for repairs or replacements as part of your fall landscape maintenance inspection.
This is especially important since the harsh winter weather can take a toll on your lighting fixtures, leading to unexpected breakdowns and repairs.
By proactively examining your fixtures now, you'll be able to enjoy safe and functional lighting all year round.
Trust us; you'll thank yourself for taking a few moments to check your outdoor lighting before the winter months arrive!
Preparing flower beds by removing dead plants or adding new ones
As summer comes to an end and the cooler temperatures of fall set in, it's time to start thinking about preparing your flower beds for the changing seasons.
This means removing any dead perennials and annuals that have wilted and lost their vibrancy throughout the summer.
However, it's not just about removing the old – it's also the perfect opportunity to add new plants and flowers to bring some fresh life to your garden.
Whether you're looking to take on a whole new look or just add a few new pops of color with perennials, fall is the ideal time to give your flower beds a little TLC.
Check your hardscape for fall landscape maintenance and repairs
With fall just around the corner, it's the perfect time to check your hardscape for maintenance and repairs.
Fall landscape maintenance will help you prepare your outdoor space for the colder months ahead and make snow removal a breeze come winter.
From fixing cracks in your driveway to ensuring your walkways are level and safe, taking a proactive approach to hardscape maintenance now will save you time and money down the line.
And let's not forget the aesthetic benefits – properly cared-for hardscaping adds curb appeal to your business.
So grab your coffee and take a stroll around your property, noting any areas that need attention. Your future self will thank you.
Scheduling inspections of irrigation system for winterization
Living in an area that experiences harsh winters can take a toll on your lawn irrigation system.
Snowfall and freezing temperatures can cause pipes to crack and damage your sprinklers. That's why scheduling regular inspections and winterization is necessary to ensure the longevity of your system.
Avoiding these routine maintenance practices can lead to costly repairs in the long run.
With proper fall landscape maintenance inspections, you will catch any issues, such as leaks or clogs, before they worsen.
Winterization involves shutting down and draining the system to prevent water from getting trapped and expanding, causing pipes to burst.
It's much easier to be proactive about your lawn irrigation system than to scramble to fix it during the busy spring and summer months.

Schedule inspections and winterization of your water features
Maintaining your company's water features might not be the first thing that comes to mind when planning your business strategy, but it shouldn't be ignored.
Proper scheduling of inspections and winterization of these features as part of your fall landscape maintenance can save you from headaches and costly repairs down the road.
By taking preventative measures, you can ensure that your fountains, ponds, or other water installations run smoothly and at their finest.
Inspections can identify potential damages or failures before they become significant problems. And when winter arrives, proper winterization prevents the freezing and cracking of pipes, pumps, and other parts.
Not only does this save on repair costs, but it also keeps your business running smoothly and your customers impressed with your attention to detail.
So, don't overlook the importance of scheduling inspections and winterizing your water features before the winter snow – it's a smart investment in the long run!
In conclusion
The fall season brings with it a wealth of fall landscape maintenance and preparation to be done, and although the amount of work may seem daunting at first, completing these simple steps can ensure that your landscape is in great shape for years to come.
Take time to follow this landscaping checklist:
Prune shrubs and trees correctly

Aerate and fertilize the lawn

Prepare flower beds or outdoor lighting locations

Inspect each water feature

Check the hardscape for repairs or other upgrades

Make sure your gutters are free of debris
These landscape tips for yard maintenance will all go a long way in helping you take care of your landscape over the cold months.
Getting started on these fall landscape maintenance tasks as soon as possible so that you aren't left trying to play catch up when winter arrives!
Take advantage of all the fall has to offer your business's lawn maintenance by following these seven essential tips this season.
Remember to contact Seasonal Landscape Solutions today if you are looking for professional help with managing your outdoor areas.
We have expertise in designing landscapes that meet every property's aesthetic goals and functional needs.