YOUR TRUSTED SOURCE FOR HIGH-QUALITY BRICK PAVERS
Brick Paver Patios in Algonquin and Beyond​
Paving with brick has been around as long as roads or floors have been needed. The look is classic and elegant, but historically, brick paver patios were unreliable long term and costly to maintain. Not any more. Modern brick paver patios utilize combinations of semi-permeable base layers, heat treated and cured brick, and unique polymer grouting to create a patio that is not only beautiful, but built to last. No more weeds popping through or needing to re-stain the deck every other year. Instead, you can enjoy a low maintenance paver patio with a 10 year guarantee. In addition, as a certified Unilock installer, you can trust that your bricks are made with precision and care. Check out the video to see the Unilock paver stones difference.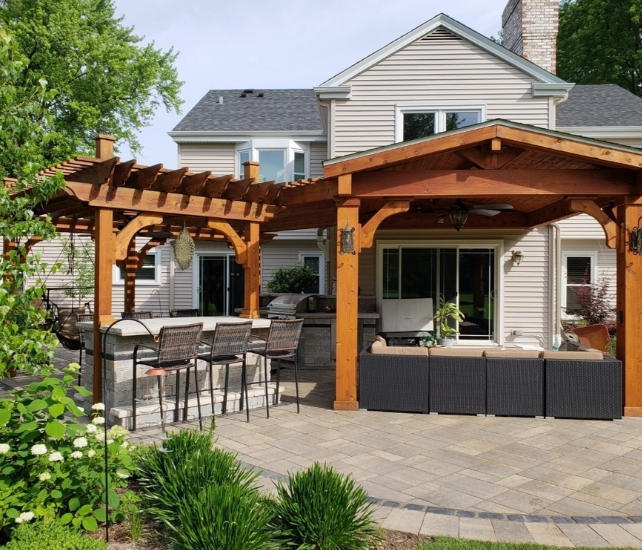 People love two things: conversation and food. Seasonal Landscape can help bring this together with a custom outdoor kitchen patio.
Combining several traditional elements with modern amenities, this brick paver patio comes loaded with fridge, grill, lighting, stovetop, pergolas, and stone countertops.
A peaceful patio for your backyard space
Patios in Algonquin and Beyond
Are you looking for a peaceful escape from your busy life?
This brick paver patio comes equipped with a hot tub and a babbling brook-style water feature. Add in the comfortable seating and a portable fire pit, and you have a sanctuary to call your own.
And this is just one example of what Seasonal Landscape Solutions can craft for your outdoor area. We're here to customize your design to fit your unique space and preferences.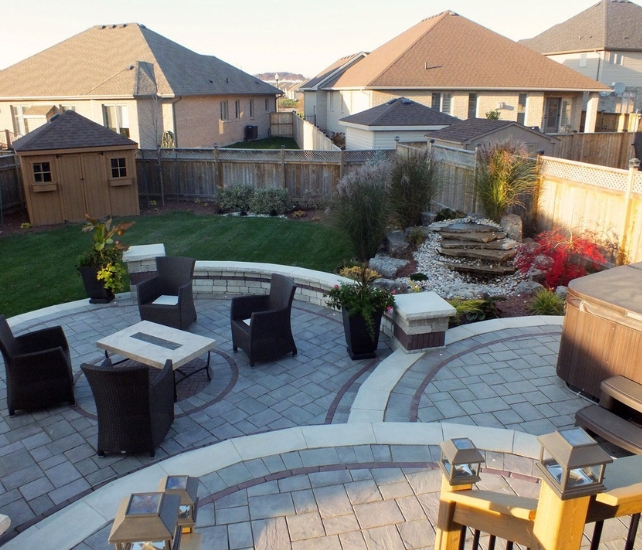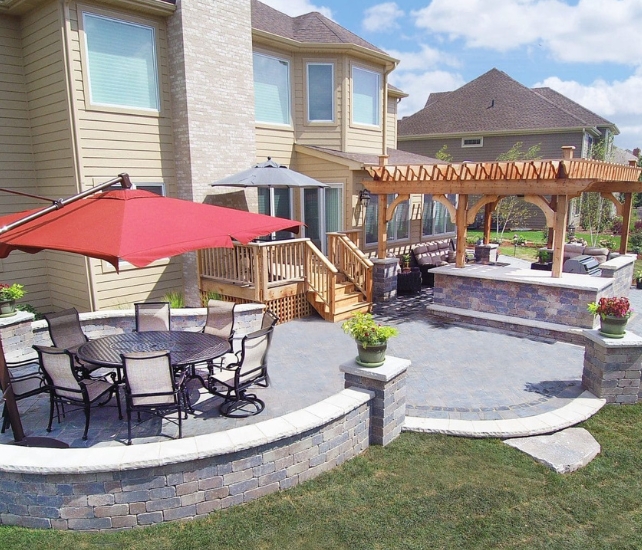 BE THE HOST WITH THE MOST.​
Infusing brick and wood is just where this patio starts. Curved patios create a free-flowing organic aesthetic. 
The pergola creates a shaded grilling and chilling area while removing itself from the dining area, opening up space for separate gathering areas. Add the retaining walls for an intimate touch and you have the most party-worthy of all brick paver patios.
The outdoors is calling. Convert your yard into your backyard paradise. Your family, and yourself, will be grateful you did. Schedule with us today and start your design.