Extend Your Usable Living Space
Increase Your Homes Aesthetic
Not every home is patio ready. Some have drainage problems and others don't have a good level yard. Or perhaps you don't like the look or feel of stone or brick. Wooden or composite decks have always been a reliable choice for outdoor living extensions. Decks are also super flexible and easy to incorporate into your existing property, regardless of grade, height, or features. Want to hide that above ground pool or jacuzzi? Or maybe you want to extend that second story view from your walkdown second floor. Either way, composite decks make this a beautiful and affordable solution.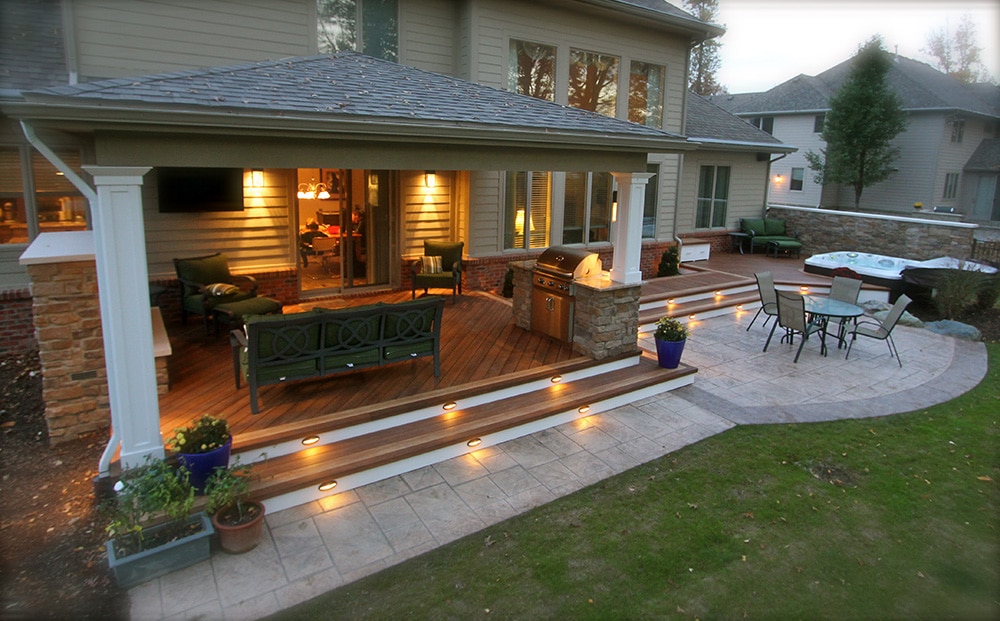 Wraparound Deck
Level Ground Not Required 
From no convenient outdoor living space, to a multi entrance show stopper, this deck shows just how flexible composite decks can be.
Creating an entire out room that connect both the driveway and the rear sliding door, this also provides a create view and looks great doing it.
Eliminates maintenance on tricky graded grounded while making it useful space
Adds an extended view and easily accessible outdoor living space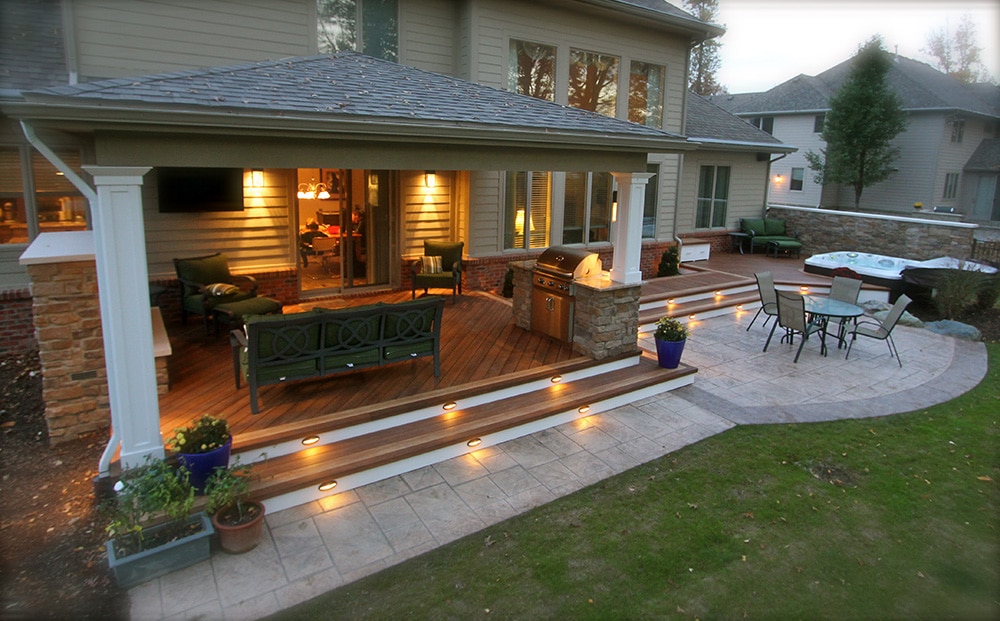 Summer Night Getaway
Don't Stop When the Sun Goes Down 
Some people just want to live outside. This is the deck for them. A multi-tiered mixture of wooden and composite decks, infused with stone and an extended pavilion, the fun only starts there.
Add in a built-in grill, mounted lighting, running lights, an outdoor TV, and a hot tub, and you might just have the best getaway this side of heaven.
Complete lighting for after hours
Seamlessly integrating several amenities
Running lights and step down paver patio expand and enhance the deck itself
Second Story View
Chances are, your home came with a small walkout deck to a ground level patio, but that second story view is just too good to waste. A wooden deck can keep your horizon and create a lot of extra space as well.
This deck adds so much extra home space without the repeated use of stairs and simultaneously creates space for all those extra outdoor tools that need a place to stay.
Improved the view the living space quality
Tons of extra storage space
Reduces difficulty of lawn care on graded surface