Be Outside Rain Or Shine
Enjoy Relaxation Year Round
A pavilion brings your outdoor space together. It provides shelter and covering in any season. These units give woodsy feels, beach vibes, Grecian looks, Asian zen or even a modern style to your backyard. The best part about having a pavilion is the activities to place underneath such as: outdoor kitchen, brick paver patio, bar, dining area, fireplace, fire pit, waterfalls and more. The possibilities are endless! It's time to create your home's counterpart: the pavilion.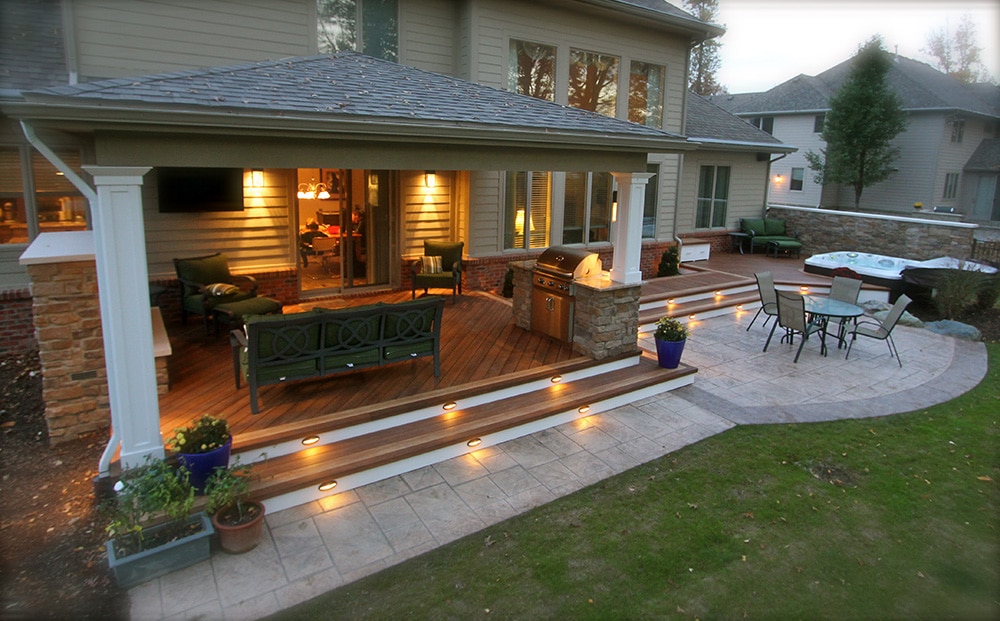 Outdoor Pavilion Examples
Rustic Woodsy Retreat
A lumberjack inspired hideaway 
Put a fireplace under this structure, and your nights outdoors will remain cozy forevermore. If you have always wanted a cabin or to continue your woodsy style, look no further because it may be exactly what you've been needing. It's the perfect getaway without the travel.
A fireplace or fire pit contribute to your country style
Include a dining area for your whole family to enjoy a meal
Adding an outdoor kitchen fulfills your experience
A Shady Siesta
Bringing Cabo to your backyard
Build your island desires a few steps away from your home. Seems impossible since we live in Illinois, right? On the contrary, it's quite possible with a cabana style pavilion. We help you design the perfect spot for a rejuvenating nap outdoors.
Fans cool you down while you rest
Open archways give that beachy vibe
Brick paver patios create a clean look
Get Cozy By The Stream
Waterfall, warmth and wet bar
If you can fall asleep to the sound of a waterfall, crackling fire, or someone making drinks – this structure covers those calming elements. A waterfall and stream implants immediate charm and zen in your backyard.
With a pavilion you are not only given protection to your outdoor kitchen, fireplace, fire pit, waterfall, stream, or whatever else you may have; but it also gives you incredible coziness.
Waterfalls provide zen to your yard
Your grill, oven and wet bar remain protected
Create a unique outdoor experience for you, your family and guests